Martha's Vineyard blogger targeting illegal immigrants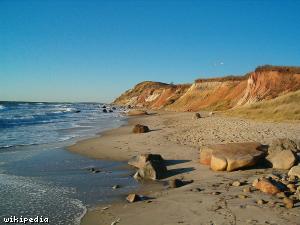 June 14, 2011
Business leaders on the upmarket Massachusetts holiday island of Martha's Vineyard have roundly condemned the actions of an anonymous blogger, who is listing island businesses that he claims are employing illegal immigrants. The bitter blogger has set up what he has called 'Operation Punchbowl' with the mission of ridding the island of "unwelcome invaders".
Commercial leaders on the island - which is known as the summer playground of the US's liberal elite and a popular haunt for the whole Kennedy dynasty - have said the blogger's actions are leaving a bad taste in people's mouths.
"People are very frustrated," Nancy Gardella, the director of the local chamber of commerce, said. "It's bringing a really negative factor to the Vineyard".
The island has 16,535 year-round residents, a number that swells to more than 100,000 with tourists in the summer - and the low-paid service staff are necessary to provide for them. The out-of-season population has been propped up by Brazilian workers since the mid-80s. The local Brazilian association claims that there are 3,500 Brazilians on the island - which is actually four time more than the number legally recorded as being there.
Ms Gardella said that the immigrants - legal or illegal - played an essential role in the island's economy.
"Without them, we'd all be worse off and could not be open for business. We just don't have the manpower," said Ms Gardella. "Businessmen bend over backwards to employ American kids but it's hard to get those who are here to work."